We have a
student discount

for you if you wish to register for this course! Just send us proof of enrollment via email to be eligible for the purchase coupon.

This 6-hour workshop, divided into three days, consists of six comprehensive chapters introducing whales, dolphins and porpoises. It is suitable for a broad audience, from students to enthusiasts looking to learn from the start or deepen their current knowledge. The workshop aims at providing participants with a solid foundation on cetacean biology, species identification, study methodologies and how anthropogenic activities impact cetaceans. This workshop will be lectured in English.
Length:
3rd, 4th and 5th of April 2023 – 6 hours in total
3rd of April 2023, 6 to 8 pm GMT+1
GENERAL BIOLOGY OF CETACEANS
:
Cetacean evolution, their current taxonomy, ecology and behavior.
CETACEAN SPECIES IDENTIFICATION
:
Learn how to identify cetaceans in the field based on their different features and characteristics.
4th of April 2023, 6 to 8 pm GMT+1
CETACEAN STUDY METHODOLOGIES
:
Find out how scientists study cetaceans and what techniques can be used.
OBSERVING WILD CETACEANS
:
Discover different types of touristic encounters – the pros and cons; Understand the importance of codes of conduct for observing wild cetaceans.
5th of April 2023, 6 to 8 pm GMT+1
THREATS TO CETACEANS
:
Learn how human activities affect cetaceans.
CETACEAN CONSERVATION - CASE STUDIES
:
Explore examples of conservation efforts.
Tutors
Alicia Quirin
After completing her MSc in Marine Conservation at the University of Aberdeen in Scotland, Alicia joined AIMM as a research assistant. She has been part of the team ever since and is currently a researcher. She is involved with different projects at AIMM, including the publication of several scientific studies investigating the social lives of dolphins.
Guilherme Estrela
Guilherme is a naturalist and wildlife enthusiast who has been working with marine mammals for over a decade. His previous whale watching experience has allowed him to spend countless hours observing cetaceans in the field. Guilherme is currently a researcher and skipper at AIMM.
Donation
60 € for non-students;
50 € for students.
Date and time
3rd of April 2023 – from 6 to 8 pm (GMT+1)
4th of April 2023 – from 6 to 8 pm (GMT+1)
5th of April 2023 – from 6 to 8 pm (GMT+1)
The end time of the workshop can be extended, depending on the interaction of the participants with the tutors.
Location
Live and online, via Zoom.
Pre-requisites
No previous experience or knowledge required;
Participants must use a computer that can operate Zoom.
Notes
Certification provided upon completion of the course.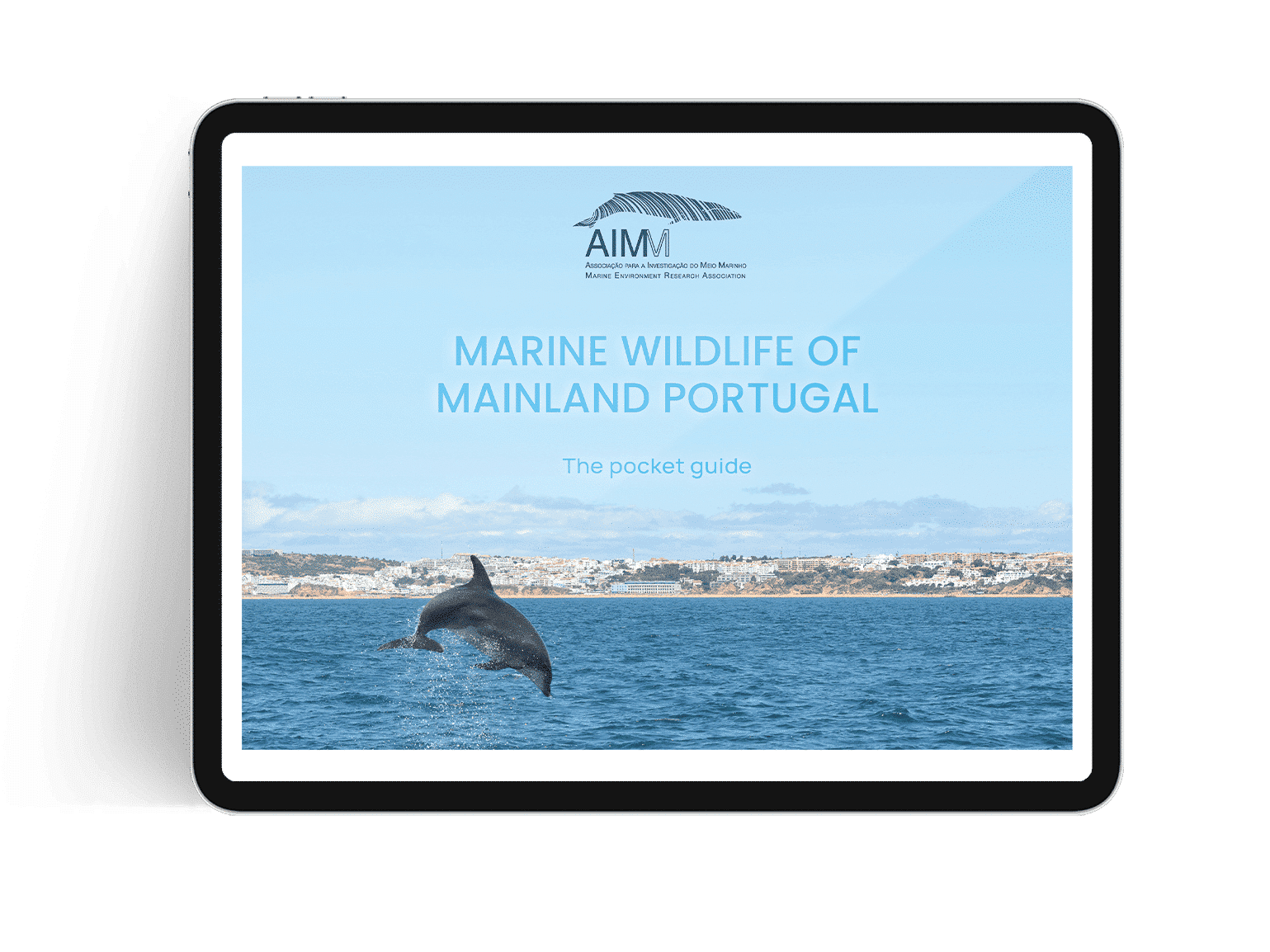 Find out more about the marine megafauna in Portugal with the official AIMM Species Guide.
The Species Guide is a digital guide in English where you'll find various information about the marine species that occur in mainland Portugal. You'll find biological information, behavior, conservation status and much more!
Purchase