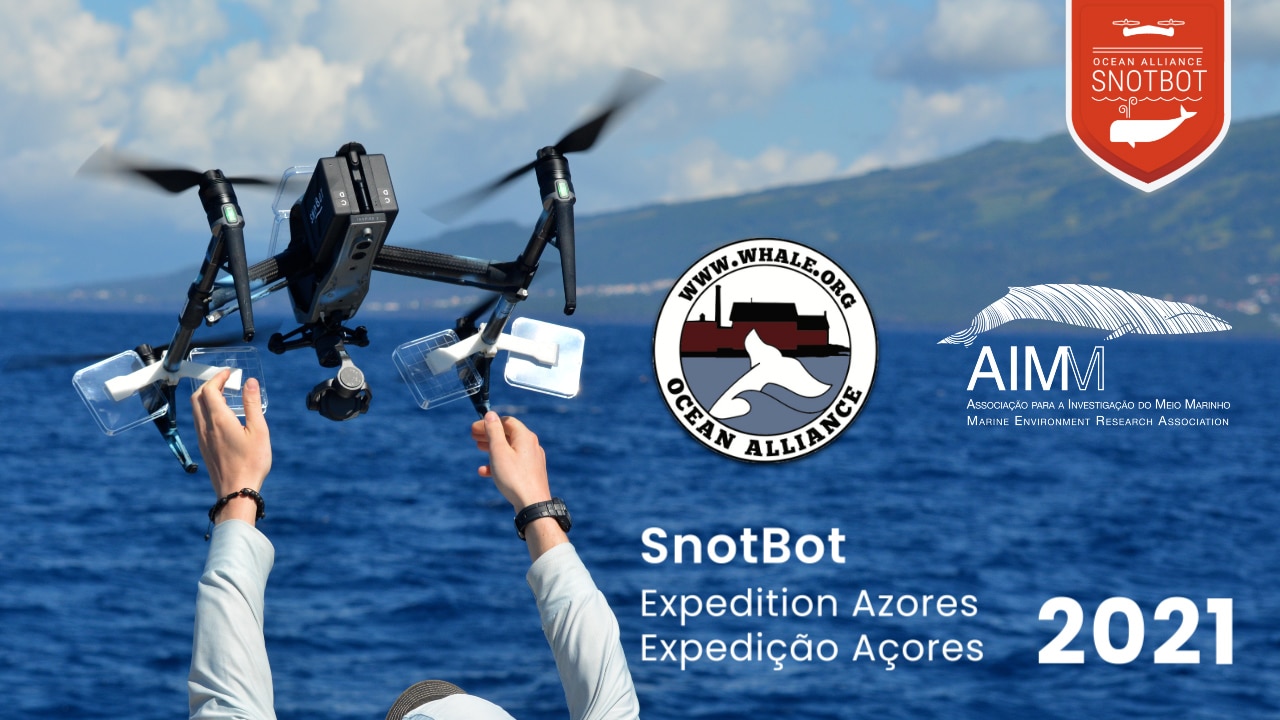 AIMM was invited to be the local partner in this SnotBot Expedition from Ocean Alliance, an NGO with the mission of protecting whales and their ocean environment. Part of AIMM team went to Faial island in the Azores to study a population of sperm whales. With the help of the SnotBot team we hope to collect as many blow samples from several species.This Expedition counts with the help from OceanX.
Research carried out under the following Portuguese scientific license of the Government of the Azores: LMAS-DRAM/2021/07.
 Learn more about Ocean Alliance and their SnotBot project: www.whale.org 
Participating in a SnotBot expedition is a dream come true!
It's around noon on the 28th of June, 2021 and we are in the middle of the Atlantic Ocean, about 12 miles south of the Azorean island of Faial.
We have just collected a sample from a bryde's whale – the third different species we have successfully sampled from this expedition! The drone has landed safely back on deck, the petri dishes are removed and then carefully taken into the interior of the boat. "Excellent work!" is the unanimous call echoing around the vessel. It's hard to contain a smile right now! "Keep going with the whale!" yells Dr. Iain Kerr from the bow of the boat. "Let's try to collect another blow!"There are just a few species of baleen whale that Ocean Alliance has not yet sampled with the SnotBot, and this was already the third new species for them in just 4 days!
Two years ago, when we first began discussions with our colleagues from Ocean Alliance to organize a SnotBot expedition to the Azores, I could hardly believe that this day would ever come. I first heard about the use of drones for marine mammal research at a conference back in 2012. At that time, I never imagined that I would become a drone pilot myself, and that one day I would be able to catch the blow of a whale for us to study and thus better protect the ocean.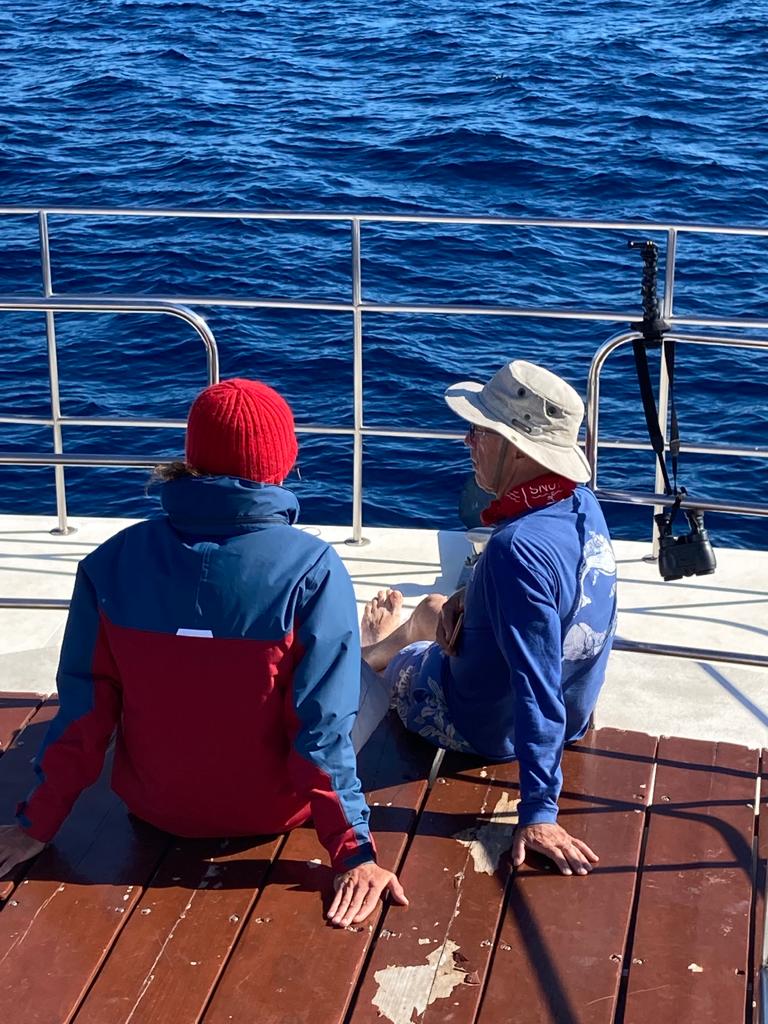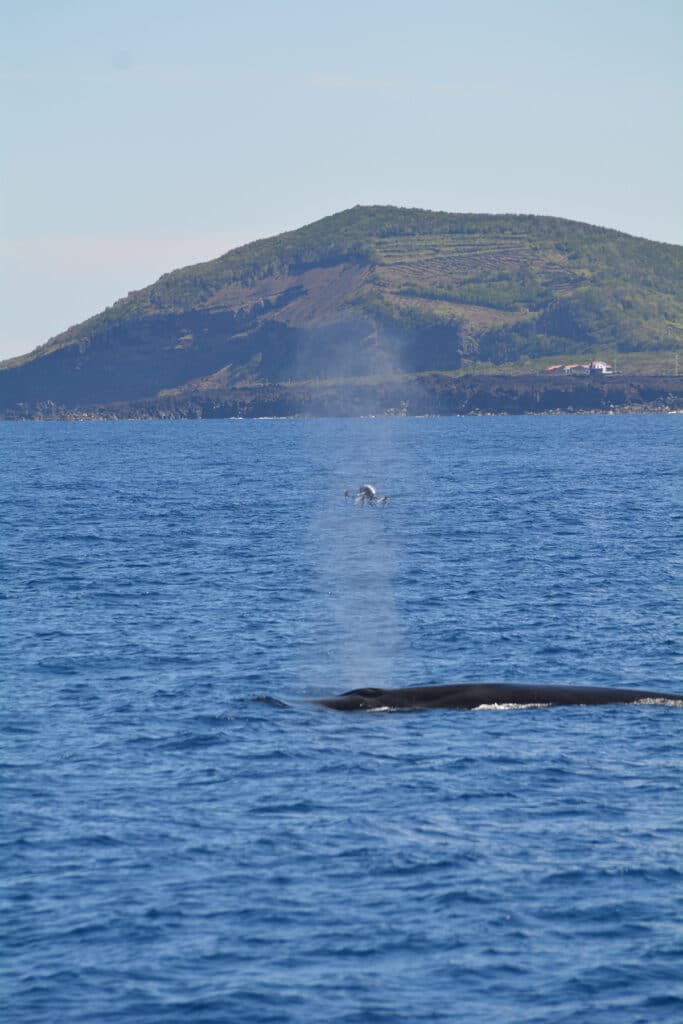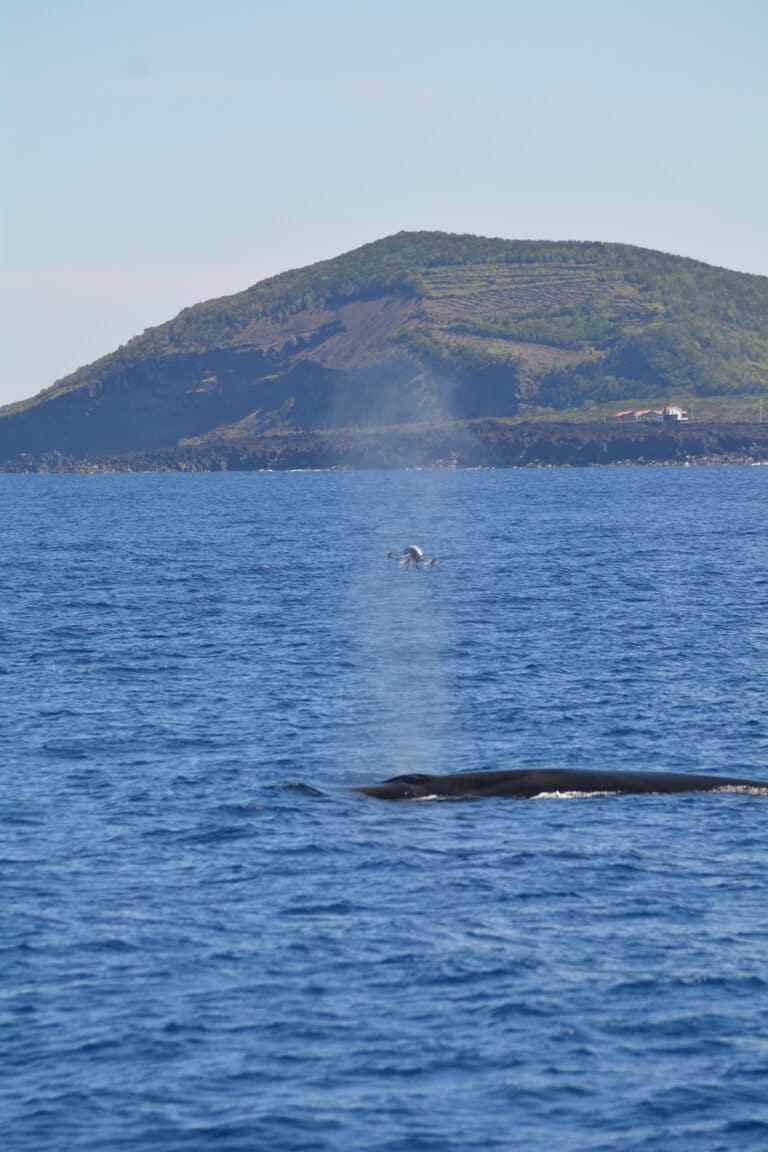 Taking place in the Portuguese island archipelago of the Azores, this is the 15th Ocean Alliance SnotBot Expedition, and this year it is in partnership with AIMM. The purpose of the expedition is to test if it is possible to collect blow samples from sperm whales, and additionally, to prove that these samples can be used, for example, in genetic and hormonal studies. This non-intrusive technique replaces the collection of blows with a pole (which can be difficult to perform and involves approaching the animal quite closely) or the need to take biopsies, a technique used for decades by scientific researchers that is much more invasive for animals.
This is only the fourth day of the expedition and we have already collected more samples than we expected! We proved that it is possible to collect blows from sperm whales with drones, and so far, we haven't seen any evasive reactions from the animals, except some occasional curiosity towards the drone from some of them.
Thanks to the vision of Ocean Alliance and Dr. Iain Kerr, marine mammal research is changing! It is possible that we will never again have to use invasive techniques such as biopsies to collect skin or fat samples when trying to determine things like sex or if the animal is contaminated with pollutants. The SnotBot is a new methodology, which has, until this day, been tested on 9 different species of cetaceans, positively evolving marine mammal research and safeguarding animal welfare.
On a personal and professional level, organizing and participating in an expedition like this is a dream come true! While the Azores are certainly not the most remote place on our planet, they are perhaps the best place in Europe to work with marine mammals. Today we saw a bryde's whale, sperm whales, false killer whales and a group of pilot whales! And, if we hadn't been so focused on the target species of this expedition, the sperm whale, I think we could have spotted even more!
I wonder what tomorrow has in store for us?
– André Cid, Senior Researcher
We present you The Rundown video of the Expedition, where you can find never-before-seen footage of these days at sea and you might spot some whales too!
Expedition was possible with the help of Ocean X.